Anxiety among Students According to their Academic Level and Extracurricular Activities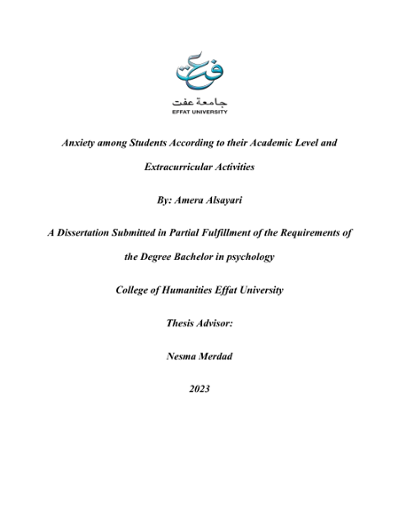 Name:
final senior research.docx
Size:
152.7Kb
Format:
Microsoft Word 2007
Description:
Senior research Final - Amera ...
Abstract
According to The Diagnostic and Statistical Manual of Mental Disorders, Fifth Edition, (DSM- 5) classifies generalized anxiety disorder (GAD) as an anxiety disorder characterized by excessive, uncontrollable and often irrational worry about everyday things that is disproportionate to the actual source of worry. The minimum duration to be diagnosed with GAD is 6 months; it could vary in some cases and ages. Researchers all around the world have found a correlation between GAD caused by one's academic performance to further examine the effects of academic induced GAD and its comorbid, is a co-occurrence of more than one disorder in the same individual, conditions such as depression in Saudi Arabia. Inam, et.al (2015), hypothesizes that anxiety and depression is common among freshmen medical students in a medical college of Saudi Arabia. The aim of this study is to measure anxiety among university students according to their academic levels and extracurricular activities. Two hundred eighty-eight male students and 105 female students were recruited from College of Medicine, Qassim University to perform a cross-sectional study which includes 1st, 2nd & 3rd year students. All students were given a self-administered questionnaire and The Aga Khan University Anxiety and Depression Scale (AKUADS). Later, data analysis was completed by Epi Info which indicated that females had a higher rate of anxiety and depression compared to males. First year students of both genders reported being most depressed, followed by third year students, pre-medical students, and second year students. Inam, et.al (2015) suggested ideas for future studies. For example, to identify what causes the stressors and compare the results of multiple majors, as well as, graduate programs.
Collections