Artificial Intelligence: Towards Digital Transformation of Life, Work, and Education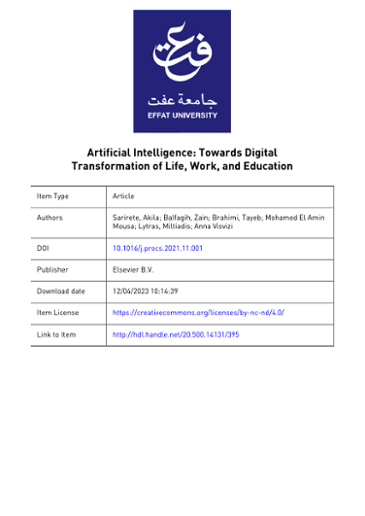 Name:
Artificial Intelligence Towards ...
Size:
478.1Kb
Format:
PDF
Abstract
A new time of intelligence is rising, with Artificial Intelligence (AI) at the forefront of the changes we are living in a rapidly evolving world. AI is restructuring our lives, inspiring change, and hence shaping our future world. In the time of the Covid-19 pandemic, AI offers several opportunities thus giving the science of medicine the power to turning mountains of data into lifesaving breakthroughs, identifying diseases from a simple drop of blood, and attempting to stop the spread of the disease while developing effective vaccines in record time. Usually, the process can take 10 to 15 years to develop. AI, robots, and drones are being deployed to stop the spread of the disease, help track the pandemic, enforce restrictive measures, and provide critical support to healthcare delivery. Using AI, it is possible to transport medical supplies by drone, disinfect patient rooms, and search approved prescription databases for drugs that may also be effective against Covid-19. AI is also a tool to finding quick ways to bring cures to market, assisting customers in stores, adjusting to new inputs, performing human-like tasks, and enabling the achievement of 134 targets across all 17 sustainable development goals (SDGs) of the United Nations (UN). According to the consulting firm PwC (***), by 2030, AI could boost global GDP by 14%, with the highest gains in China and North America. The fastest-growing industries will be healthcare, financial services, and retails. In the Middle East, AI is expected to grow at a rate of 20% to 34% per year, with the U.A.E. and Saudi Arabia leading the way. The potential impact of AI in the Middle East is estimated to be US$320 billion by 2030. This impact could be even larger if governments continue to push the boundaries of innovation and implementation of AI across businesses sectors. The PwC consulting firm, the second-largest professional services network globally, estimated that by 2030 AI could contribute $135 billion or 12.4 percent to Saudi Arabia's GDP. AI opened a pool of opportunities for digital transformation and innovative services, one of the key concepts of the Saudi Vision 2030. There is no doubt that the development of non-oil sectors through investment in AI technologies could strategically position Saudi Arabia to serve as a springboard for the future.
ae974a485f413a2113503eed53cd6c53
http://dx.doi.org/10.1016/j.procs.2021.11.001
Scopus Count
Collections