A Bibliometric Analysis of COVID-19 Vaccines and Sentiment Analysis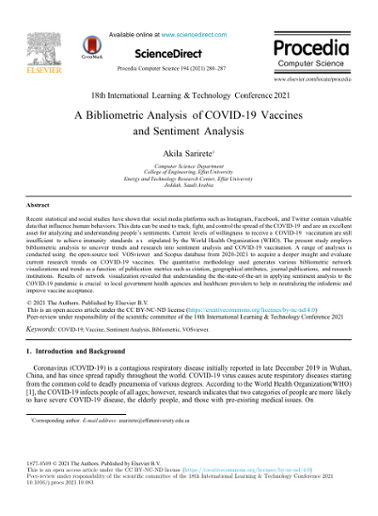 Name:
Bibliometric Analysis of COVID-19 ...
Size:
1.568Mb
Format:
PDF
Author
Sarirete, Akila
Abstract
Recent statistical and social studies have shown that social media platforms such as Instagram, Facebook, and Twitter contain valuable data that influence human behaviors. This data can be used to track, fight, and control the spread of the COVID-19 and are an excellent asset for analyzing and understanding people?s sentiments. Current levels of willingness to receive a COVID-19 vaccination are still insufficient to achieve immunity standards as stipulated by the World Health Organization (WHO). The present study employs bibliometric analysis to uncover trends and research into sentiment analysis and COVID-19 vaccination. A range of analyses is conducted using the open-source tool VOSviewer and Scopus database from 2020-2021 to acquire a deeper insight and evaluate current research trends on COVID-19 vaccines. The quantitative methodology used generates various bibliometric network visualizations and trends as a function of publication metrics such as citation, geographical attributes, journal publications, and research institutions. Results of network visualization revealed that understanding the the-state-of-the-art in applying sentiment analysis to the COVID-19 pandemic is crucial to local government health agencies and healthcare providers to help in neutralizing the infodemic and improve vaccine acceptance.
ae974a485f413a2113503eed53cd6c53
10.1016/j.procs.2021.10.083
Scopus Count
Collections
Except where otherwise noted, this item's license is described as https://creativecommons.org/licenses/by-nc-nd/4.0/