Appliance Identification Based on Smart Meter Data and Event-Driven Processing in the 5G Framework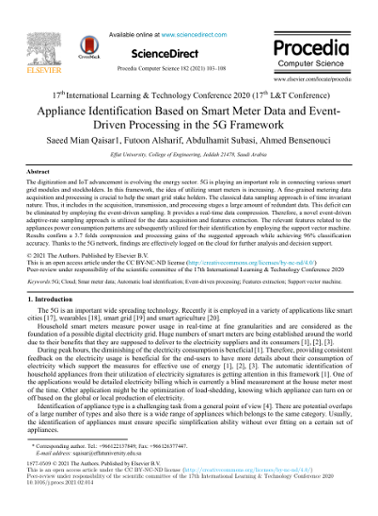 Name:
1-s2.0-S1877050921004786-main-1.pdf
Size:
855.1Kb
Format:
PDF
Abstract
The digitization and IoT advancement is evolving the energy sector. 5G is playing an important role in connecting various smart grid modules and stockholders. In this framework, the idea of utilizing smart meters is increasing. A fine-grained metering data acquisition and processing is crucial to help the smart grid stake holders. The classical data sampling approach is of time invariant nature. Thus, it includes in the acquisition, transmission, and processing stages a large amount of redundant data. This deficit can be eliminated by employing the event-driven sampling. It provides a real-time data compression. Therefore, a novel event-driven adaptive-rate sampling approach is utilized for the data acquisition and features extraction. The relevant features related to the appliances power consumption patterns are subsequently utilized for their identification by employing the support vector machine. Results confirm a 3.7 folds compression and processing gains of the suggested approach while achieving 96% classification accuracy. Thanks to the 5G network, findings are effectively logged on the cloud for further analysis and decision support.
Book title
Procedia Computer Science
ae974a485f413a2113503eed53cd6c53
10.1016/j.procs.2021.02.014
Scopus Count
Collections
Except where otherwise noted, this item's license is described as https://creativecommons.org/licenses/by-nc-nd/4.0/